"Eh, Sabtu depan ngumpul yuk. Udah lama gak ngopi bareng nih." (Hey, let's grab some coffee next Saturday)
"Waah, gak bisaaa. Ada deadline terjemahan Sabtu sore." (Oh sorry, but I can't. I have a translation deadline due Saturday afternoon.)
"Ya udah, kalo gitu Sabtu depannya lagi deh." (Oh, OK. Next Saturday then.)
"Masih ada deadline untuk proyek X dan Y jugaaa. Bulan depan aja gimana?" (Uhhm, I'm working on projects X and Y and they are due next Saturday. What about next month?)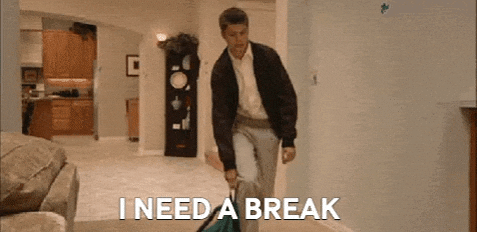 Pernah diajak ngopi oleh teman tapi terpaksa menolak karena sedang ada tenggat pekerjaan hingga satu bulan ke depan, seperti percakapan di atas? Saya pernah, tuh 🙂 Rasanya seluruh waktu habis hanya untuk menyelesaikan pekerjaan dengan tenggat waktu yang semakin mepet. Padahal tubuh dan pikiran sudah benar-benar ingin istirahat, tergoda untuk ikut nongkrong bersama teman-teman atau sekadar berbagi cerita.
Sounds familiar? Yeah, been there too. I had to skip hanging out with my friends because I had deadlines to meet. It felt like my time was spent only for work, racing with the deadline to the finish line. My body and mind really craved for a break, and oh boy, the temptation to just stop working and meeting my friends was too hard to resist.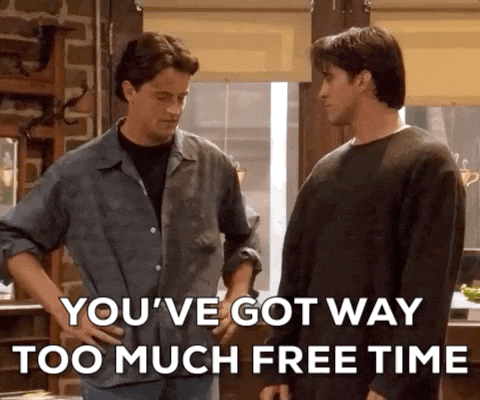 Di saat berbeda, ketika teman-teman sedang sibuk dengan pekerjaan mereka, saya malah memiliki begitu banyak waktu luang karena pekerjaan sedang tidak terlalu banyak. Selama beberapa hari, yang saya pikirkan adalah mengapa tidak ada tawaran pekerjaan yang masuk. Apakah tidak ada yang percaya lagi dengan hasil pekerjaan saya? Apakah semua klien saya sudah beralih ke penerjemah lain? Terjemahan saya tidak baguskah? Dan sejuta pertanyaan (negatif) lain yang memenuhi benak karena ada banyak waktu untuk berpikir. Hahaha! Ironis, ya?
There were also times when my friends were so caught up with work while I was having so much free time to spend. You know, when there weren't any translation projects or interpretation gigs and I'd completed all tasks on my to-do list. Then I couldn't help thinking about why I haven't received any job offers. Is it possible that my clients are not happy with my work? Have they turned to other translators? Is my translation quality poor? And thousands of other negative thoughts. Hahaha!
Itulah manusia. Selalu tidak pernah merasa puas, termasuk saya dulu, hehehe. Percayalah, semua ada masanya. Ada masa ketika saya kebanjiran pekerjaan sehingga makan siang dan mandi pun sering tertunda. Hal itu saya syukuri karena berarti klien memercayai saya untuk membantu mereka dan saya masih diberi rezeki oleh Tuhan. Memang, namanya manusia, kadang masih adaaa saja perasaan tidak puas. Padahal, semua itu pilihan saya sendiri. Bisa saja saya menolak beberapa pekerjaan ketika memang sedang ingin lebih banyak waktu untuk istirahat. Mengapa masih menerima pekerjaan kalau memang tidak mau dan takut kehilangan waktu berharga? Kejar setoran? Takut kehilangan klien? 🙂
Well, that's what human beings are like. We always long for more. We can't seem to accept that there will always be ups and downs, feast and famine. There will be times when I have to work long hours, which means I should be grateful that my clients still trust me to work with them. I might not have the time to get together with friends over lunch or coffee, but hey, that's okay. I choose to take the job and I could have said no to my clients when I don't feel like working too much. Why would you accept job offers if you don't want to do it in the fear of losing some of your precious time? Are you worried your clients would not send any more offers your way? Or you really really need the money?
Kini, ketika sedang sepi proyek, saya tetap bersyukur karena saya bisa punya waktu untuk sekadar bersantai, mengerjakan proyek pribadi, atau berkumpul dengan keluarga dan teman-teman dekat. Tidak ada lagi pikiran panik dan ketakutan akan kehilangan klien atau kekurangan pendapatan. Sekali lagi, itu semua pilihan saya sendiri. Saya yang menentukan apa yang saya ingin lakukan.
So now, when I don't have too much work, I choose to simply be grateful because it means I have time to relax, work on my personal projects, or hang out with my family and close friends. I don't have that panicky feeling or fear of losing clients and income. It's my choice. I decide what I want to do.
KESIMPULAN (CLOSING THOUGHT)
Semua ada masanya. Semua hal yang kita pikirkan akan terwujud kalau kita memang meyakininya. Hal-hal yang terjadi pada diri kita adalah akibat dari pilihan yang kita buat. Sekarang, terserah kita, apakah ingin menjadi reaktif atau proaktif dalam menghadapinya. Jika kita meyakini hal positif, maka akibat positiflah yang terjadi; begitu juga sebaliknya.
You will go through feast and famine, ups and downs in life. You will manifest everything you have in your mind if you really believe in them. Things that happen to you are the consequences of the choices you have made. Now you can choose to be either reactive or proactive in dealing with the consequences. Positive life comes from positive thoughts, so does the opposite.
Jadi, mana yang kamu pilih? Menggerutu dan menyesali keadaan atau menerimanya dengan rasa syukur?
(So, which one do you choose? Grumbling about what you're facing on a daily basis or being grateful for everything, every day?)
Selamat memilih! 😉 (Well, choose wisely!)